Bio-based antimicrobial foam
B&R CONVERTERS
Folma-Shield™ is a natural, sustainable, bio-based antimicrobial control foam
Folma-Shield™ is a natural, sustainable, bio-based antimicrobial control solution that is derived from coconut oil. Folma-Shield™ has a unique mechanical mode of action, meaning it does not deplete over time.  The formulation locks and bonds to the foam during the manufacturing process.
How does Folma-Shield™ Work?

Folma-Shield™ simply uses antimicrobial "Spikes" that have formed inside the foam that are positively charged attracting the negatively charged molecular structure of microorganisms. When the microorganisms land on the spikes, they pierce the cell wall and membrane, killing the organism.
---
Why is Folma-Shield™ better than a chemical treated foam?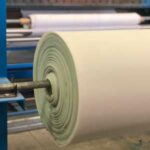 Folma-Shield™ is non-leaching and remains attached to the surface, providing durable, persistent long-term microbial control and protection.  This non-chemical mode of action is highly efficient, terminal, and deadly for harmful pathogens.
In contrast, most common antimicrobials are leaching technologies, meaning they leave the surface on which they are applied and seek to disrupt pathogen cells by chemical iteration. This mode of action is inefficient and allows microbes to build resistance.
Folma-Shield™ is 100% effective for the life of the foam.
Folma-Shield™ qualities
Natural, Bio-based sustainable solution
Free from heavy metals, toxins, and chemicals
Does NOT Leach from the foam or deplete during the life of the product
Safe for Humans, pets, and the Environment
100% Recyclable foam
---
Where should Folma-Shield™ be used?
Seating, Upholstery, Bedding, Wall panelling etc for:
Aged Care

Health Care

Hospitality

Education

Workplaces & Offices

Automotive & Marine

Public Spaces (e.g. Library's, Restaurants & Cinema's)

Public transport (e.g. Bus Seats, Taxies, Hire cars)

Retirement Living Furniture 
Antimicrobial has never been so paramount; Corona Virus has changed our lives and the way we live forever.  Make Folma shield™ your foam of choice by requesting it in your order or adding Folma Shield™ to your specification.
Combine Folma Shield™ foam with an antimicrobial fabric or treatment (B&R Converters recommends Germ Shield™ antimicrobial treatment) you are giving your clients and their clients a twofold antimicrobial barrier.
---
B&R CONVERTERS
How we work
With over 50 years in the textile bonding and printing business in Australia we know how to make it easy for you.
Send us your fabric and an order form
Download your order instructions and form below.
We test the first meter for suitability
We will contact you if there are any problems with the test.
We maintain strict quality control
We quality control your project throughout the process.
We will deliver on budget and time
We will communicate with you to arrange the best delivery method.
Order Instructions
Download PDF
NOTE: Work loss: please include with your order one additional meter for each continuous piece of material supplied.
NOTE: Fabric should be forwarded rolled on a tube with the face side of the fabric clearly marked. Incoming fabric that is wrinkled or not rolled on a tube will be subject to wrinkle removal charges.