State-of-the-art unwind slitting machines.
B&R CONVERTERS
Slitting and Rerolling or Rewinding
Our Slitting and Rewinding department has industrial state-of-the-art unwind slitting machines equipped with technology which allows us to convert material at high speeds and produce quality reworked material with tremendous accuracy.
Material can be slit to custom specific widths and lengths onto a range of core diameters. Most textile products can be slit to your required width. We also have a log slitting service available.
Our fabric and roll slitting lines allow B&R Converters to offer a further service whilst potentially removing an internal process from our customers. Roll slitting provides our customers with finished, ready-to-use fabric solutions. Ask us today how fabric slitting can benefit your business.
Capabilities
Slit widths from 20 mm to 3500mm | Slit width tolerances to ± 2mm | Slit from up to 600mm diameter rolls | Unwind and rewind capabilities up to 1200mm diameter rolls.
---
Slitting and Rewinding Methods

Log Slitting, Blade or single-knife slitting
Log Slitting, Blade or single-knife slitting is the process of placing a roll of fabric or film on a stationary mandrel while a circular or bandsaw blade slices the material to the specified width.
Rewind Slitting
Rewind Slitting uses score, shear or razor methods, and produces multiple cuts per cycle. Razor Slitting use a single rotary or stationary blades positioned at intervals across the machine. The material is pulled through the stationary blades, making precise, clean cuts.
Razor slitting is best suited for all textiles, films and thinner materials of consistent thickness.
---
We are specialists in the precision rewinding of a wide range of materials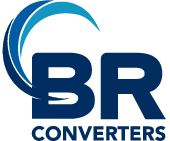 We will consider slitting or rewinding any materials up to 3500mm wide. B&R have many years experience precision slitting and rewinding of an extensive range of flexible roll goods.
Our skilled and loyal staff have the experience and depth of knowledge to add value to our customers products.
Our company takes pride in our ability to work alongside our customers research and development departments in the strictest confidence trialing new and revised materials giving valuable advise on all aspects of the slitting and rewinding process.
Bleached Fabrics
Burlap
Canvas
Cheesecloth
Cotton
Denim
Wool
Duck
Filter Cloth & Felt
Flannel
Knitted Fabrics
Impregnated Fabrics
Mesh Materials
Mil-Spec Fabrics
Muslin films
Nonwoven Textiles
Sheetings
Synthetics
Twill
Vinyl
Nylon
---
B&R CONVERTERS
How we work
With over 50 years in the textile bonding and printing business in Australia we know how to make it easy for you.
Send us your fabric and an order form
Download your order instructions and form below.
We test the first meter for suitability
We will contact you if there are any problems with the test.
We maintain strict quality control
We quality control your project throughout the process.
We will deliver on budget and time
We will communicate with you to arrange the best delivery method.
Order Instructions
Download PDF
NOTE: Work loss: please include with your order one additional meter for each continuous piece of material supplied.
NOTE: Fabric should be forwarded rolled on a tube with the face side of the fabric clearly marked. Incoming fabric that is wrinkled or not rolled on a tube will be subject to wrinkle removal charges.